Swimming Pool Installation Process
Just Add Water. We'll Handle the Rest.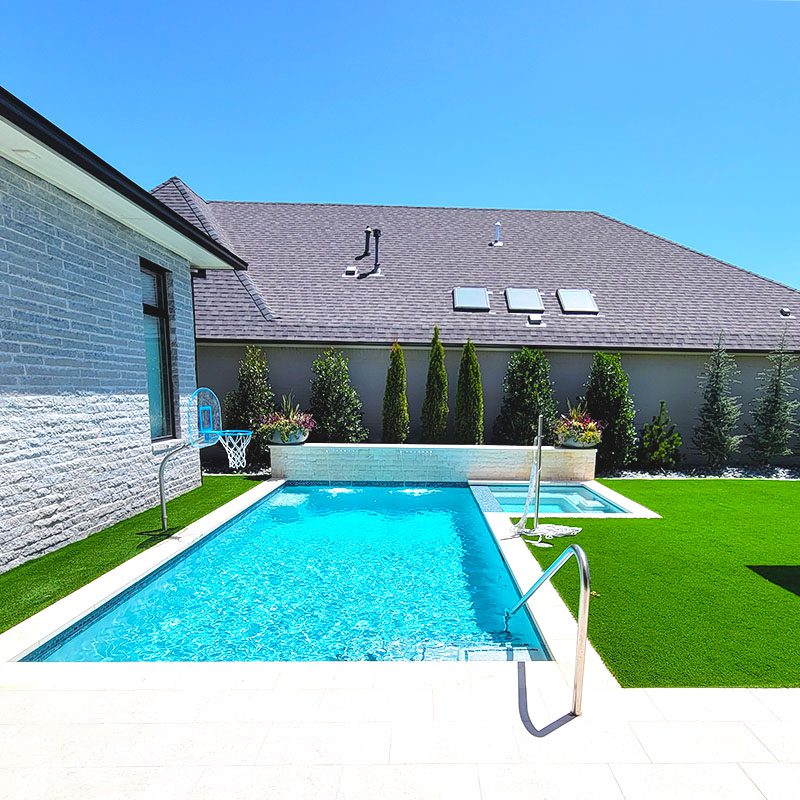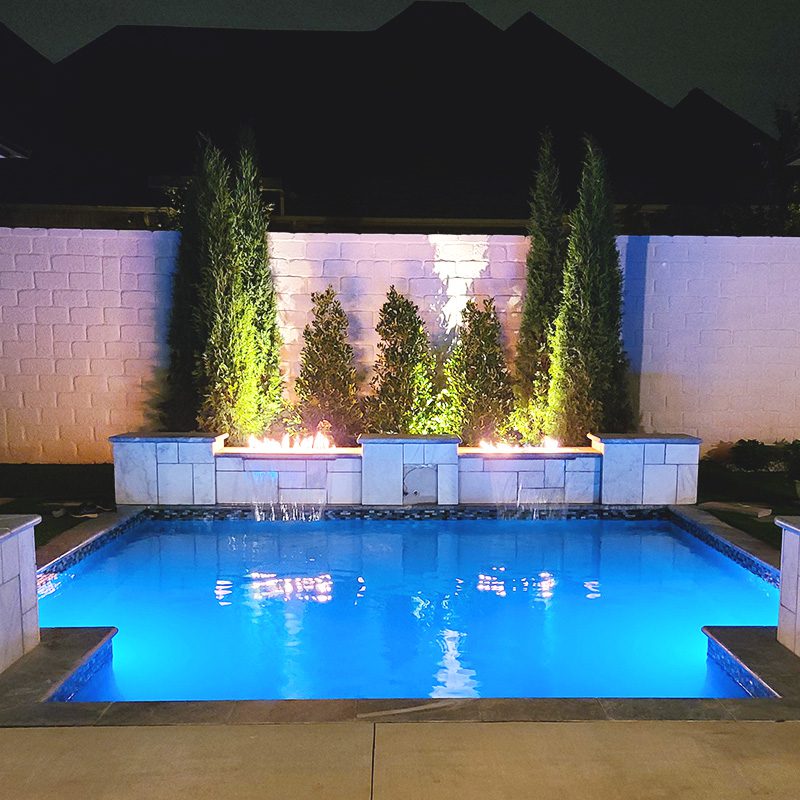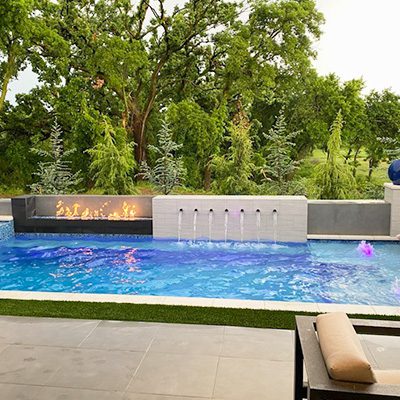 10 steps to your background paradise
Building a pool is a complicated process, so we want you to understand some of the ins and outs.
After meeting with you in your home to get an understanding of your dream backyard and needs, we will create a comprehensive 3D design including your home, yard and pool. We will review this in detail with you before finalizing the contract. Once the contract is signed, we apply for permits and create a detailed construction plan, including property features such as utilities, elevation, property lines and fences.
We will paint an outline of your pool in your yard, giving you a better feel for its size and location. This is a good time to make adjustments before work begins. After your approval, we will begin excavation.
We will place forms around your pool to its completed elevation height, then begin the actual excavation. The dirt will be removed to expose the size and shape of your pool. A portion of this work will be done by hand to guarantee exact measurements. All dirt will be removed from the site unless instructed otherwise by you.
We place steel on 8" centers – more steel than most companies – as well as a 12" bond beam with ½" rebar around the entire pool, providing superior structural integrity. In this phase we also add all the returns, main drains, skimmers, lights and other plumbing parts in the shell of the pool.
Gunite is a high-strength concrete mix (7000-9500 psi) that is shot into the pool shell. We ask that you water it twice a day for the first week to slow the curing time and ensure maximum strength. You'll see your pool begin to come to life as we build steps, swimouts, benches, walls and floors.
We now tie in to all the stub plumbing, running plumbing to the equipment area. We will build a manifold to test all plumbing lines for leaks. Plumbing will remain under pressure until decks are poured. We use schedule 40 PVC pipe, and our hydraulic expertise guarantees the maximum turnover rate for your pool – the most effective filtration and reduced chemical usage.
Your choice of brick or stone will be installed around the top edge (bond beam) by our masons. Any waterfalls, retaining walls or special work with rock or stone will also be done at this time.
Now it's time to pour equipment pads and install decking. We set up and plumb all pool equipment, including pumps and filtration. All electrical work is performed at this time by a licensed electrician and in compliance with all electrical codes.
All debris is cleaned up and hauled off, along with a final grading of the construction area. Should you have sod, irrigation systems or landscaping to be done, it goes in now. Then plaster is sprayed onto the interior surface of the pool and troweled in to give it its finished look. We offer a wide assortment of plaster choices.
We now fill it and start up the equipment to ensure everything is working properly. We will orient you on how to operate the equipment via your phone or tablet, and provide a brief lesson on water chemistry. We'll cover the owner's manual, warranties and any questions you might have.
With this new knowledge and all the tools you need to maintain your pool (pole, net, vacuum head, hose and water test kit), you're all set to start scheduling pool parties and being the proud owner of a new pool!
What type of pools do you build?
We build custom, in-ground, gunite pools and spas.
What is the average size of a pool?
The size of the pool depends on how you plan to use it, the size of your yard, and any limitations due to easements, budgets, etc. Diving pools require more length and depth. There are required specifications for diving pools.
How long will it take to build my pool?
This depends on several variables, including pool size and complexity, supply chain circumstances and weather. We know you want to jump in soon, but it's important to us that we don't make promises we can't keep. When we meet, we'll give you a good idea of what to expect based on your design and actual current conditions.
How much does a pool cost?
There are many different variables that affect how much a pool will cost to build and to operate. To get a rough idea, contact us.
Do you provide service for the pools you build?
Yes, all our pools are covered by the most extensive warranties, and we are trained and certified to ensure you will enjoy your pool for many years to come. We also provide a weekly maintenance service for the greater Oklahoma City area.
How will I learn to use my equipment?
When your pool is completed, we will walk you through a step-by-step process, explaining the operation and maintenance of your pool. We will also give you an Operations Manual and all your warranties. If you have questions later, you can always contact us.
Schedule an obligation-free consultation now. Dip your toe in the water or dive in – your call!
Check out some of the pools and backyard paradises we've created to start dreaming up your plan!
We've always been small, local and determined to get every detail right. See what else sets Dunford Pools apart.